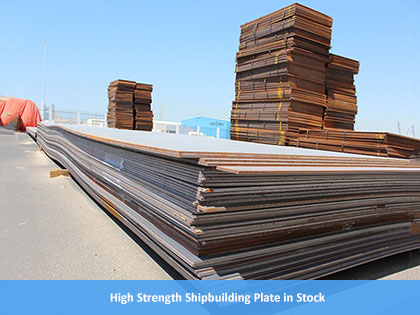 High Strength Steel Plate for Shipbuilding
As, morden ships sizes are much larger than old days, a series of high strength steel plate are developed for shipbuilding, according to ABS Classification Society, 4 basic steel grades are as follows: AH36, DH36, EH36, FH36. AGICO is able to supply all steel grades with comprohensive sizes, and delivery state can be specified by customer.
What Makes High Strength Steel Plate
As Shipbuilding steel plate are used in corrosive sea environment, steel plate with high strength and corrosion resistance is more suitable for building ships. Additionally welding performence is also a key requirement for shipbuilding steelplate. But how to make shipbuilding plate with higher strength? Take F serie for example, carbon element is being controlled in hot rolling process, and TMCP technology is the key for manufacturing high quality shipbuilding plate.
AH36 DH36 EH36 FH36 Chemical Composition:
ABS High Strength Steel

Chemical Composition \%≤

Element
ABS Grade AH36
ABS Grade DH36
ABS Grade EH36
ABS Grade FH36
C
0.18
0.18
0.18
0.16
Mn
0.90-1.60
0.90-1.60
0.90-1.60
0.90-1.60
Si
0.10-0.50
0.10-0.50
0.10-0.50
0.10-0.50
P
0.035
0.035
0.035
0.025
S
0.035
0.035
0.035
0.025
Al (acid)≥
0.015
0.015
0.015
0.015
Nb
0.02-0.05
0.02-0.05
0.02-0.05
0.02-0.05
V
0.05-0.10
0.05-0.10
0.05-0.10
0.05-0.10
Ti
0.02
0.02
0.02
0.02
Cu
0.35
0.35
0.35
0.35
Cr
0.20
0.20
0.20
0.20
Ni
0.40
0.40
0.40
0.80
Mo
0.08
0.08
0.08
0.08
N
0.009
Mechanical Property for ABS AH36, DH36, EH36, FH36
Mechanical Property
ABS Grade AH36
ABS Grade DH36
ABS Grade EH36
ABS Grade FH36
Tensile Strength(Mpa)? ≥

490-620
490-620
490-620
490-620
Yield Strength
(Mpa)? ≥
355
355
355
355
Equivalent ABS Grade EH36 Steel Grades
| ABS | LR/LRS | GL | DNV | BV | RINA | RMRS |
| --- | --- | --- | --- | --- | --- | --- |
| ABS EH36 | EH36 | E36 | E36 | EH36 | EH36 | E36 |