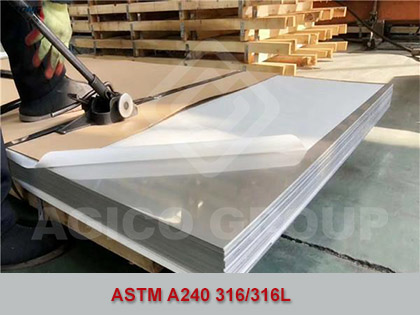 ASTM A240 316/316l Stainless Steel Plate
In ASTM A240, type 316 and 316L is a chromium nickel austenitic steel, Element molybdenum addition can enhances corrosion resistance of stainless steel, which is the main factor that 316/316l is more corrosion resistant than 304/304l. When 316L steel of low carbon content is only a little higher than 316 steel on strength level. So sometimes grade 316l is almost the same as 316 grade. Another difference, 316l can be used for weld treatment as it contains lower carbon.
316/316L steel has outstanding corrosion resistant properties, whether it is atmospheric or oxidizing environment, even for marine atmosphere, it shows excellent corrosion resistance in welded state. Normally 316/316l steel shows no magnetic in annealed condition, cold drawn or cold rolling process may make it with little magnetic, and it can be fixed with further processing.
Applications of ASTM A240 316/316L
316/316L plate is used to manufacture products for applications that are exposed to salt water, acids such as sulfuric acid and chloride, petrochemicals and chemicals and high-heat such as engines and motors.Products include tanks, supports and frames, enclosures and housings, engine, motor and machinery components and parts.
Chemical Composition of 316/316L Steel Plate
Chemical Composition of 316/316L steel
Element
316
316L
Carbon
0.08
0.030 max
Chromium
16.0-18.0
16.0-18.0
Nickel
10.0-14.0
10.0-14.0
Molybdenum
2.00-3.00
2.00-3.00
Manganese
2.00
2.00
Silicon
0.75
0.75
Nitrogen
0.10
0.10
Phosphorus
0.045
0.045
Sulfur
0.030
0.030
Mechanical Properties of 316/316L Steel Plate
| Mechanical Property of 316/316l | 316 | 316L |
| --- | --- | --- |
| Yield Strength, min. (ksi) | 30 | 25 |
| Tensile Strength, min. (ksi) | 75 | 70 |
| Elongation, min. (%) | 40 | 40 |
| Hardness, max. (Rb) | 95 | 95 |
Stainless Steel Standards of 316/316L steel
Steel Standards of 316/316L
316
316L
ASTM A240
ASTM A240
ASTM A666
ASTM A666
ASME SA240
ASME SA240
AMS 5524
AMS 5507