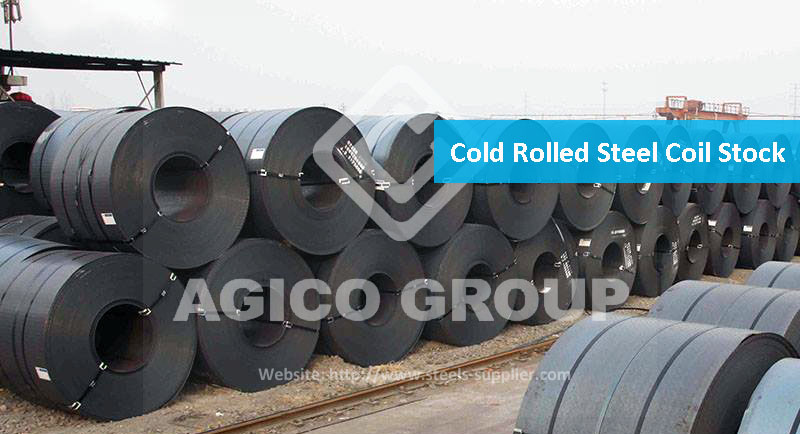 Cold Rolled Steel Coil Supplied by AGICO
ANSON-AGICO high-quality hot rolled and cold rolled steel coil products: cold-rolled carbon steel, low-carbon steel and stamping steel which have excellent performance and material, high dimensional accuracy, excellent surface quality, excellent stamping, forming properties and welding performance. They are widely used in automobiles, home appliances. With enamel, daily hardware, office furniture, electronic components, security doors and other Application fields:
Cold Rolled Steel Coil Material Introduction
Carbon structural steel has strong versatility, good cold forming properties and high strength, and is widely used in manufacturing structures. Parts and Reinforcements
Interstitial Atomic Steel ( IF ) has high R values, N values, and elongation. It is mainly used for automotive parts required for ultra deep drawing processing and for other extremely complex deformation processing products.
Phosphorus high-strength steel has high strength and good cold forming properties, and has excellent impact resistance and fatigue resistance, mainly used for automotive covers and structural parts;
Bake hardened steel is processed and formed at a certain temperature After baking, it has age hardening to further increase the yield strength, mainly used for automotive exterior cover parts;
The two-phase high-strength steel has more precise components, more stable mechanical properties, better forming properties, and is not easily deformed by cutting and forming. With no yield extension, no room temperature aging, low yield ratio, high work hardening index, bake hardening value and good welding performance, it is the first choice for automotive structural parts, reinforcements, anti-collision parts and other parts;
HSLA steel having excellent cold formability and high strength characteristics, primarily for automotive structural member and the reinforcing member;
The battery steel has the characteristics of stable composition, stable performance, high surface quality and high dimensional accuracy. The matte battery steel is mainly used for punching rechargeable battery steel shells, and the smooth surface steel is mainly used for punching alkaline battery steel shells. .
Cold Rolled Steel Coil Types and Applications
Material category
Standard
Brand
Description
Cold rolled carbon steel
Q/BQB402 BZJ491
SPCC
General use
SPCD
Stamping
SPCE, SPCEN
Deep drawing
Cold rolled low carbon steel
Q/BQB403 BZJ492
DC01
General use
DC03
Stamping
DC04
Deep drawing
DC05
Deep draw
DC06
Ultra deep drawing
Cold rolled stamping steel
Q/BQB408
BLC
General use
BLD
Stamping
BUSD
Deep drawing
BUFD
Deep draw
BSUFD
Ultra deep drawing
Cold rolled carbon structural steel
Q/BQB410
St37-2G
Structure
St44-3G
Structure
St52-3G
Structural parts, reinforcements
Phosphorus high strength steel
Q/BQB411
B170P1
Stamping
B210P1
General use
B250P1
Structure
B180P2
General use
B220P2
Structure
Bake hardening high strength steel
Q/BQB416
B140H1
Deep drawing
B180H1
Stamping
B180H2
Stamping
Two-phase high-strength steel
Q/BQB418
B240 /390DP
Structure
B280/440 DP
Structural parts, reinforcements
B340/590 DP
Structural parts, reinforcements
B400/780DP
Reinforcement piece, anti-collision piece
Low alloy high strength steel
Q/BQB419
B340LA
Structure
B410 LA
Structural parts, reinforcements
Steel strip for packaging
Q/BQB460
REG700
Ordinary strap
EXT800
High-strength strap
EXT900
ULT1000
Ultra high strength strap
ULT1250
Enamel steel
Q/BQB461
BTC1
Deep drawing
BTC3
General use
Cold rolling steel strip for coinage
Q/BQB462
BZB
Manufacture of nickel-plated coin steel core
Steel strip for color picture tube
Q/BQB470
SPCCCK
Steel tube for color picture tube shadow mask frame
BCK-1
BCK-2
Steel for auto parts
BZJ463
B320LW
Automobile wheel steel
B360LW
B440QZ
Steel for automobile drive shaft
B350JL
Car clutch
St12G
Car bracket
St14J
Car pay bracket
BMCP84
Automobile clutch friction plate steel
Stl2Q
Steel for chassis
Stl2Q1
High weathering steel
BZJ464
B400NQ
Used in the manufacture of vehicles, containers, doors and windows, cold-formed steel and other components
B450NQ
B460NQ
B500NQ
Flux cored wire steel
BZJ465
St15-T
Flux cored wire steel
Home appliance panel steel
BZJ471
BLC-JD1
Spraying machine
BLC-JD2
Spraying freezer outer panel
BLC-JD3
Spraying refrigerator side panel
BLD-JD1
Film type A refrigerator panel
BLD-JD2
BLD-JD3
B type refrigerator panel for laminating
Carbon and low carbon rolled hard steel coil
BZJ493
CDCM-SPCC
Carbon and low carbon rolled hard steel coil
CDCM-SPCD
CDCM-SPCE, CDCM-SPCEN
CDCM-DC01
CDCM-DC03
CDCM-DC04
Welded steel
BZJ494
BHG1
Single layer welded pipe
BHG2
Double welded pipe
Battery steel
BZJ495
BDCK
For the production of battery steel shells