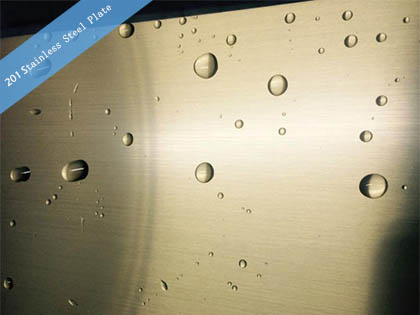 What is 201 Stainless Steel
201 stainless steel, with certain acid and alkali resistance, high density, no bubbles, no pinholes, etc. It is a high-quality material for producing various case and strap bottom cover. Mainly used for decorative tubes, industrial tubes, some shallow stretched products.
Type 201 is normally limited to nearly flat or shallow drawn products such as automotive trim, builder's hardware comprised of window and door components, flatware, rapid transit cars and trailers.
Developement of 201 Stainless Steel
The 200 series stainless steel was first developed in the United States during the Second World War as a substitute for the 300 series stainless steel. At that time, nickel as a strategic material was strictly controlled by the countries concerned, and the supply of nickel in the United States was seriously insufficient. In order to solve the problem of production and supply of stainless steel in the case of a serious shortage of nickel supply, the United States has developed a series of new steel grades of austenitic stainless steel with manganese-nickel.
The nickel in Type 201 stainless steel is lower than Type 301, nickel is replaced with a manganese-nitrogen combination allowing this type to develop high yield and tensile strength in the annealed condition. Although mechanical and corrosion properties of 201 and 301 are similar, 201 series general uses do not cover all field of 300 series. Annealing makes type 201 non-magnetic, while cold work makes it magnetic.Resistance to abrasion of 201 is low to 301 series.
201 Stainless Steel Mechanical Property
Temper
Tensile Strength
Yield Strength
Elongation
Rockwell
KSi
MPa
KSi
MPa
in 2 inches %
1/2 Hard
150
-1034
110
-758
10
C-32
1/4 Hard
125
-862
75
-517
20
C-25
3/4 Hard
175
-1207
135
-931
7
C-37
Annealed
95
-655
45
-310
40
B-90 max.
Full Hard
185
-1276
140
-965
5
C-41
201 Stainless Steel Chemical Composition
C
Carbon
Mn
Manganese
P
Phosphorus
S
Sulfur
Si
Silicon
Cr
Chromium
Ni
Nickel
N
Nitrogen
Mo
Molybdemum
Other
0.15
5.50-7.50
0.06
0.03
1
16.00-18.00
3.50-5.50
0.25
-
-